Here is your super easy, super standard, super DELICIOUS, chicken salad recipe, with a bit of bbq sauce instead of dressing to top everything off. A great summer recipe, that works well with frozen chicken, fresh chicken, or rotisserie if you want to be extra lazy.
You can always replace barbecue sauce with your favorite low cal salad dressing as well if bbq isn't to your liking.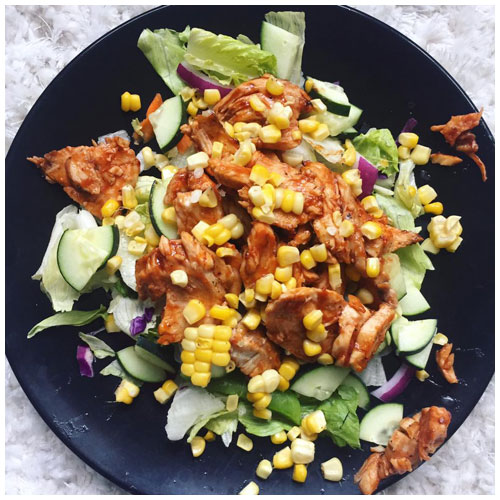 Ingredients: (for one salad)
1 chicken breast per salad (or half a chicken breast depending on hunger levels)
red onion chopped finely
corn (canned), but fresh is best
1 cucumber
low calorie/low sugar barbecue sauce – make your own here: http://www.44fitness.com/blog/healthy-barbeque-sauce/
1 mixed salad bag or salad green of your choice (I prefer fresh spinach)
olive oil
salt
pepper
Directions:
Season chicken breasts with olive oil, salt and pepper. Sear in a skillet over medium high heat for 3 minutes per side and then turn heat to medium low, cover the skillet with a lid or foil, and cook for 10 minutes, or until chicken is cooked through.
Let the chicken rest for 5 minutes, and then chop into bite sized pieces. Return to the skillet add add just enough barbecue sauce to coat the chicken.
Add to salad greens of your choice and add corn (cut from the cob is best), red onion, and cucumbers. Top with a bit of extra sauce if necessary. Try to keep the sauce minimal-the more you add here the more calories you are consuming.