LOSE WEIGHT – GAIN MUSCLE – IMPROVE FLEXIBILITY – FEEL BETTER
 
Group Fitness Classes
Our main claim to fame at 44 are our small group fitness classes. One of the biggest hurdles a new person faces when joining a gym is what program to follow? What equipment do I use? What days should I go on?
Our talented trainers handle all of the guest work for you! All you need to do is show up!
Do you want to drop some extra weight? Improve your flexibility? Become stronger? Or just learn to live a healthier and happy lifestyle?
Either way – we are here to help you change your life!
In each 60 minute class you will work with a variety of equipment and methods chosen to keep not only your body moving and sweating, but your mind engaged as well.
You'll be using:
Kettlebells
Battle Ropes
Bodyweight exercises
Gymnastics
Traditional weightlifting
Cardio equipment
Yoga and mobility training
Functional movements
and much much more!
IT'S TIME TO LOOK AND FEEL THE WAY YOU'VE ALWAYS WANTED.
GET THE BODY YOU'VE ALWAYS DREAMED ABOUT!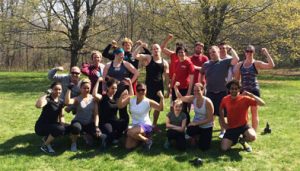 Each days workout is separated into one or more body parts focusing on getting you into the best shape of your life! Our trainers are able to modify each exercise based on skill level, age, and ability so EVERY CLIENT will get an amazing work out and be able to reach all of their health and fitness goals.
We keep our class sizes small – that way EVERY client gets the attention they need and you'll never feel lost in the pack.
---
"David is an awesome trainer. He really cares about the people he trains. He gives variations when needed based on your fitness level or needs. He makes sure you are doing things the correct way to avoid injuries. Anyone of any fitness level can benefit from working with him."

Bonnie S.
---
Isn't it time that you get the results that you deserve?
---
Monday – 6AM, 9AM, 5PM, 6PM
Tuesday – 6AM, 9AM, 5PM, 6PM
Wednesday – 6AM, 9AM, 5PM, 6PM
Thursday – 6AM, 9AM, 5PM, 6PM
Friday – 6AM, 9AM, 5PM, 6PM
Saturday – 8AM, 9AM
---
Personal Training
We also offer personal training for busy clients that can't make it to our class schedule. Do you need some extra 1-on-1 instruction on your flexibility or handstands? Maybe you have always wanted to master the kettlebell? Our personal training is for you!
---
"David is a great trainer. Can modify my workout based on my limitations so I get a great workout. Always mixing up the workout continually making it challenging & FUN. The clients are fabulous & encourage each other!! Great place with amazing trainers & clients! What are you waiting for!!"

Debra H.
---
THE PERFECT SOLUTION WHEN YOU WANT TO GET RESULTS