LEARN BRAZILIAN JIU-JITSU IN A BEGINNER FRIENDLY ALL AGES ENVIRONMENT WHILE GETTING AN AMAZING WORKOUT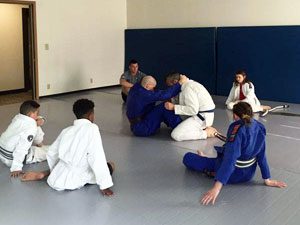 Our martial arts classes will teach you how to defend yourself AND get an amazing full body workout in supportive small classes with tons of top quality instruction!
You'll be learning a variety of techniques, warmups, drills, and exercises, all designed to teach you Brazilian Jiu-Jitsu. Each class will focus on different techniques or concepts so that you'll never run out of new things to learn… or new ways to challenge your body.
Our classes are kept small so you get tons of face time with your instructors. We also make sure to keep all of our students safe – and unlike some other schools – you'll never be pushed to spar or participate in matches with other students until YOU are ready.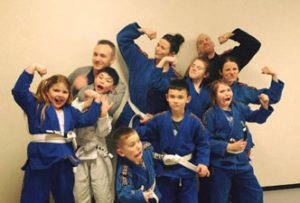 PHYSICAL AND MENTAL BENEFITS
Become more confident and gain more energy to tackle your daily routine
There is nothing quite like Brazilian Jiu-Jitsu class at 44 fitness and martial arts in Franklin, Wisconsin!You'll be building the best version of yourself OR your child when you learn how to:
gain the confidence that comes from being sure of your own abilites
do a variety of throws and takedowns
break fall, roll, and protect yourself when falling, tripped or being thrown
submit opponents much bigger and stronger
attack using leg and footlocks
All done in a safe, positive, no pressure environment with training partners who care about YOUR safety!
OUR TRAINING PARTNERS ARE FAMILY
---
"Sensei Nemo is patient and encouraging and makes sure everyone learns how to safely practice jiu-jitsu. The classes are small so everyone receives individual attention to fit their style. It is also a fantastic workout and a great way to challenge yourself mentally and physically.

If you want a fun activity that will have a great positive impact on you and your kids, try 44 Fitness and martial arts!"

Melissa K – Brazilian Jiu-Jitsu Student/Local Business Owner
---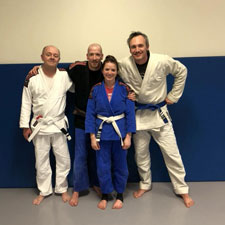 EXCLUSIVE WEB OFFER – ZERO COMMITMENT
CLICK HERE TO GET STARTED TODAY!
---
"I had been training jiu-jitsu with Sensei Nemo at 44 fitness & martial arts for about 4 years before my son was born. I took a year and a half off. I then realized how much I missed it.

I'm now back and look forward to my son training jiu-jitsu with Sensei Nemo."

Shane K. – Brazilian Jiu-Jitsu Blue Belt/Jeweler/DJ
---