These mini burrito cups are another staple in my monthly eating regimen. They hit on all the main points that I need in food for it to become a "regular" menu option (can be eaten cold, is quick to make, is packed with protein, easily consumed with hands only…) AND they are super delicious. I'm confident you are gonna love this recipe, so lets get it cracken!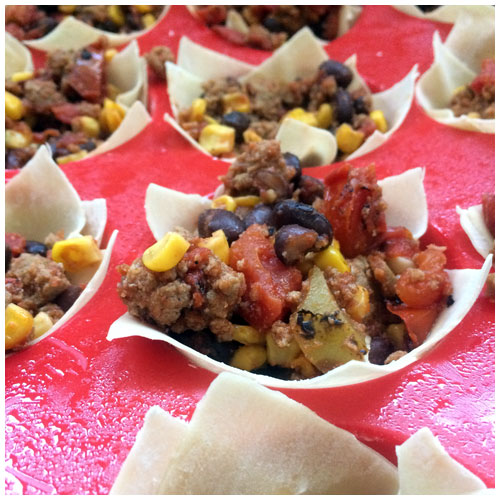 Ingredients:
1 pound lean ground turkey (or lean ground beef)
1 can corn, drained
15 oz black beans, drained
2 cans 14.5 oz fire-roasted tomatoes (drain liquid from one can)
1 tsp ground cumin
1 tsp garlic powder
1 tsp kosher salt
1 tsp red-wine vinegar
1 tsp agave nectar
24 3-inch wonton skin
package of ultra thin colby jack cheese (OPTIONAL)
Directions:
Preheat your oven to 350. When the oven is preheating, brown your turkey in a skillet on medium heat, making sure to either cook off all your fat or drain it.
After turkey has been cooked sufficiently, add in corn, beans, roasted tomatoes, spices, vinegar, and the agave nectar. Cook for 15 minutes.
Spray a 12-cup muffin tin with cooking spray or wipe down with non-stick oil. Lay 2 wonton skins in each cup. If you are trying to keep it even more low cal, only use one skin, but keep in mind cups swill be a lot more fragile… still delicious though!
Spoon turkey filling into cups and top with cheese (optional). Bake for 12 minutes.
Remove cups from oven and garnish with your favorite burrito toppings. We love lettuce, cherry tomatoes, avocado and salsa.