Want a delicious snack that even your kids and spouse will eat?
These amazing, protein packed, MOIST muffins are a sweet alternative to store bought and preservative filled snack bars.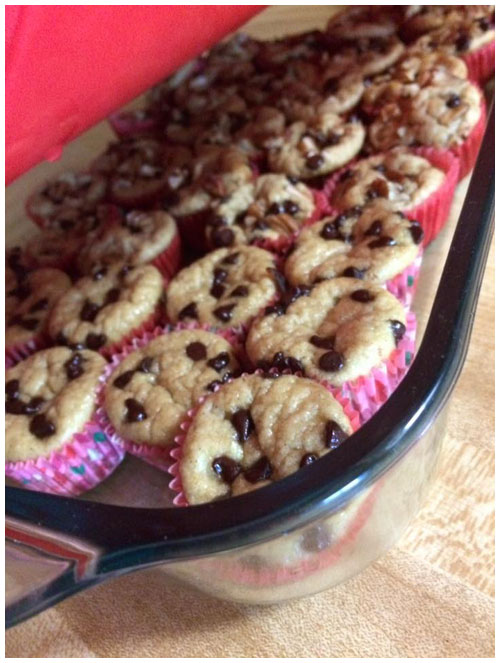 Ingredients:
2 cups oats (quick cooking or old fashioned)
2 large very ripe bananas
2 large eggs
1 cup plain Greek yogurt
2 to 3 tablespoons honey
2 scoops vanilla protein powder
1 teaspoon cinnamon
1 1/2 teaspoons baking powder
1/2 teaspoon baking soda
1/2 teaspoon pure vanilla extract
1/8 teaspoon kosher salt
OPTIONAL – 1/4 cup chocolate chips
OPTIONAL – 1/4 cup chopped pecans
Directions:
Preheat the oven to 400 degrees.
Spray a muffin tin lightly with cooking spray, fill with cup cake liners, and then hit the liners with a little more cooking spray.
Place the all ingredients but the chocolate chips and pecans in a blender. Blend on high, stopping to scrape down and stir the ingredients once or twice as needed, until the batter is smooth and the oats have broken down almost completely, about 3 minutes.
By hand, stir in the chocolate chips and pecans.
Divide the batter among the prepared muffin cups, filling each no more than three-quarters of the way to the top. Sprinkle with additional chocolate chips or nuts.
Bake for 15 minutes (10 for mini muffins), until the tops of the muffins are set and a toothpick inserted in the center comes out clean. Place the pan on a wire rack and let the muffins cool in the pan for 10 minutes. They will deflate but still taste amazing!
Remove from the pan and enjoy!