This Spicy Cucumber Salad is super fresh and inviting – the perfect side dish for summer… or winter too I suppose. You can adjust the heat by adding more or less red chili peppers.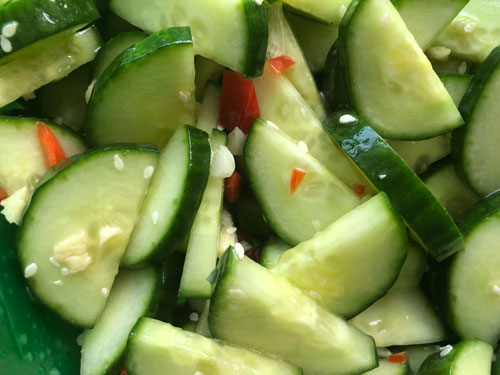 Ingredients:
2 english cucumbers, halved lengthwise and sliced
1 to 2o fresh red chili peppers seeded and sliced
1/2 white onion sliced
1/4 cup rice vinegar
1/4 cup splenda (to taste – you can definitely do less on this)
2 Tbsp sesame oil
1 Tbsp fresh garlic, minced
1 Tbsp fresh ginger, minced
1 Tbsp sesame seeds
1/2 tsp salt
Directions:
Easiest. Recipe. Ever. It's only two steps:
cup up veggies and add to bowl with other ingredients
eat
Enjoy!!!