Franklin WI's, beginner friendly Brazilian Jiu-Jitsu program is expanding
Attention Prospective Students and Parents of Students
Learn how to protect yourself and your loved ones, get in the best shape of your life, relieve stress, build confidence and discipline all while learning the gentle art of Brazilian Jiu-Jitsu
44 fitness & martial arts is expanding the size of it's co-ed all ages Brazilian Jiu-Jitsu class to enroll new students! Our program allows parents and children to train together in a safe and welcoming environment.
This class is open to both children AND adults. We teach a class that is enjoyable for both children as young as 5 or for parents looking to learn martial arts together with their child!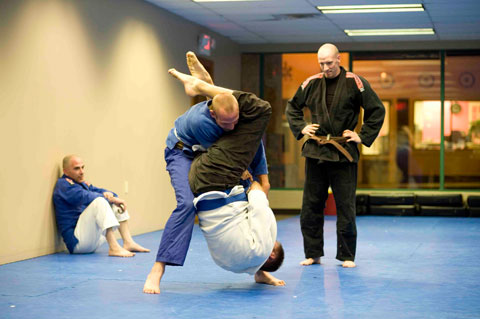 By clicking the "schedule my first free class today" button below you'll receive:
1 on 1 intro lesson where you are accompanied by one of our instructors
a tour of our facility
7 day free trial
pricing and membership options

You can also call or text us at 414-213-4538 to setup your first free class.
"The change I have seen in my girls since they started taking jiu-jitsu at 44 Fitness has been incredible. They have much more confidence and self esteem and are more respectful. Taking jiu-jitsu has promoted humility and a sense of self awareness and self defense in them.

There are so few fitness programs out there where you can actively participate right alongside your children. It is a great bonding experience. I love that we learn at the same pace and that we all practice the same skills regardless of size or age.

Sensei Nemo is patient and encouraging and makes sure everyone learns how to safely practice jiu-jitsu. The classes are small so everyone receives individual attention to fit their style. It is also a fantastic workout and a great way to challenge yourself mentally and physically.

If you want a fun activity that will have a great positive impact on you and your kids, try 44 Fitness!""

Melissa K - Brazilian Jiu-Jitsu Student/Local Business Owner
What will I doing on my free introductory lesson?
On your first class you and your child will be paired up with one of our assistant instructors. Class begins with a series of different warm ups, all utilizing different Brazilian Jiu-Jitsu and self defense motions that teach your body and mind proper mechanics as well as raising your heart rate.
Next we generally will work on a technique or series of techniques all the while the assistant instructor will be closely working with you making sure your first lesson goes great!
The last part will either be additional technique or you getting to watch more advanced students compete in friendly and safe matches.
Everyone is able to go at their own pace - make sure you bring water, and gym clothes and you'll be set - your personal instructor for the day will handle the rest!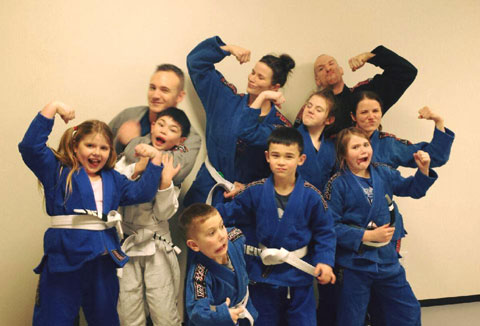 Why should you and your child learn Brazilian Jiu-Jitsu?
Here are five amazing reasons why you and your loved ones should learn Brazilian Jiu-Jitsu:
Positive Environment
We become what we surround ourselves with. Being in a positive environment, with people all working towards common goals and with the right mental attitude will not only make you FEEL great but it will also positively affect other parts of your life outside of the gym. We are all surrounded by negativity constantly - having a "safe place" where everyone is looking out for your well being is very important.
Discipline
People have been taking martial arts for generations to teach themselves and their children discipline. For children, learning to pay attention and follow through are skills that will serve them their entire lives.
You Want To Get In Shape
Brazilian Jiu-Jitsu is amazing exercise! You'll drop weight and gain muscle and flexibility all while challenging your mind when learning the gentle art. You will definitely sweat and get a great full body work out!
Self Defense
One of the single most important reasons to learn Brazilian Jiu-Jitsu is to defend yourself or your loved ones. Jiu-Jitsu was developed exclusively to teach a smaller weaker person how to defeat a larger, stronger attacker.
We don't expect that any of our students will go out and start fights, actually completely the opposite! The confidence and understanding you gain will help you to avoid and diffuse situations before they even develop into a confrontation.
Participate In An Exciting And Enjoyable Activity With Your Child
Spend time with your son or daughter while you both learn skills, positive habits, get in shape, and have a great time while doing it!
"I had been training jiu-jitsu with Sensei Nemo at 44 fitness & martial arts for about 4 years before my son was born. I took a year and a half off. I then realized how much I missed it.

I'm now back and look forward to my son training jiu-jitsu with Sensei Nemo.

I help out in kids class and see how well Nemo works with the kids. He truly loves to teach jiu-jitsu and see people grow in the art.

He makes it fun and challenging for all levels of jiu-jitsu. More than just jiu-jitsu is taught. Discipline, patience, respect, focus and confidence just list a few. I believe that jiu-jitsu with Nemo sets kids up for dealing with the stress of life.

Get in shape, learn a great martial art and some great life lessons".

Shane K. - Brazilian Jiu-Jitsu Blue Belt/Jeweler/DJ
Why 44 fitness Brazilian jiu-jitsu is different
We believe in small classes
Smaller classes sizes and lots of one-on-one attention from our instructors allows us to very closely control the learning environment, for both safety of our students and to properly insure that everyone is learning (and having fun).
We have both kids and adults and all experience levels in the same class Many martial arts schools have beginner classes, adult classes, and kids classes for different ages. At 44 fitness & martial arts we believe everyone can learn together AND from each other. Kids will enjoy seeing their parent working out and learning new things and parents will feel the same seeing their shorty learn the gentle art of Brazilian jiu-jitsu.
We teach both "tournament style" jiu-jitsu and self defense While some schools will only focus on one or the other, we at 44 fitness & martial arts believe there is room for both. You'll work on cool new moves from the latest tournament as well as traditional self defense related moves like escaping a headlock or defending against a bear-hug.
We emphasize breathing and relaxing The most important thing that can be taught in the first few months of Brazilian Jiu-Jitsu classes is to relax and breathe!
In a real life self defense situation, learning to handle the adrenaline dump of excitement and being able to deal with the fight or flight response is paramount. By emphasizing the importance of breathing and relaxing we not only will better equip you to handle real life situations, but also to be a safer and better training partner for your team mates.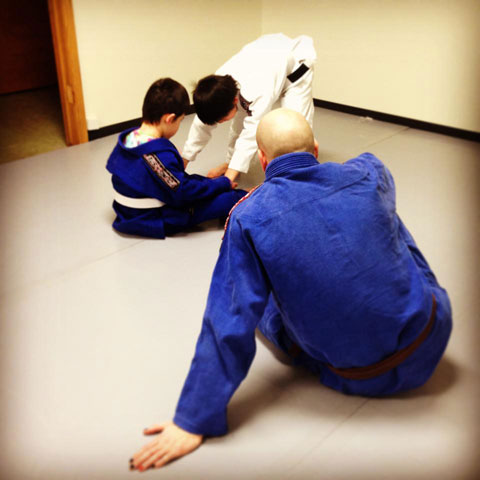 We will teach anyone willing to learn At 44 fitness & martial arts we don't discriminate against age, color, sex, ability, or fitness level. If you want to learn, we want to teach you! We believe that practicing with a variety of training partners in a safe and positive manner benefits us all. We have had students as young as 5 and all the way up to 70!

"I have created a gym that anyone can feel welcome and safe to train at. The exact kind of place that I would want to learn in if I was looking for a new jiu-jitsu "home". No egos, no gym bullies, only great people with polite and friendly instruction"

-David 'nemo' Tekiela - head instructor and owner 44 fitness & martial arts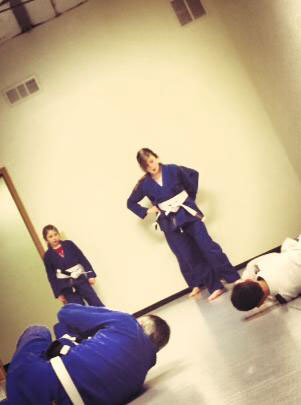 Don't let these two common beginner fears stop you from starting jiu-jitsu
"I need to be in shape before I start."
Everyone works at their own pace and all of our classes are very beginner friendly! Our more experienced students take pride in helping new people.
There is no better way to get in shape for Brazilian Jiu-Jitsu than stepping onto the mat and doing it!
"I'm afraid of getting hurt or being embarrassed."
As a beginner you'll be learning techniques with zero resistance. Meaning you and your training partners won't be "fighting" at all. Only mutually learning the classes technique safely and with no fear of injury.
Any sparring or other "live" drills will only be done when the student is completely ready and adequately experienced.
Remember - we all started at the same place - as a beginner!
Get your free tour and intro lesson by scheduling your appointment today.
Want to Learn more?
Click here to learn about our instructors, view our schedule, read testimonials, and more.