what is 44 fitness?
what we are:
We are a group of individuals focused on removing all roadblocks that would stop you from achieving your health and fitness goals. With our nutritional programs, fitness classes, personal training, and martial arts classes we provide every service needed for you to completely change your life.
what we do: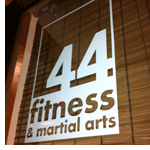 Our bread and butter are our group fitness and bootcamp classes. One to three trainers leading groups of clients through a variety of exercises to help them build muscle, lose fat, and burn as many calories as possible.
We love using unconventional methods - so expect to use kettlebells (picture a cannonball with a handle), huge ropes, monkey-bars, plyometric boxes, suspension trainers, and your own body-weight to help you achieve your fitness goals.
In addition to our group fitness classes we also offer personal training, nutritional consultation/diet creation, and brazilian jiu-jitsu.
what makes us different: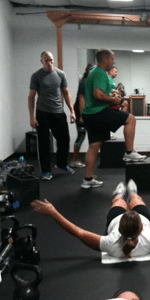 At a traditional gym you pay your dues, walk in and are expected to know exactly what you need to do. Tons of equipment with no guidance our instruction.
Our fitness classes remove every obstacle stopping you losing weight, gaining muscle, or toning up. Each class is led by an instructor who will lead you through a class with whatever specific programming is assigned to that day.
All you need to do is show up!
Many of the big box gyms offer fitness classes, but what makes ours different?
Since our main claim to fame is our group fitness class, that is exactly what we focus on. Each and every client is important to us, so we learn exactly what it takes to help you succeed.
Maybe you have a bad knee or tennis elbow, all of our trainers will know what special modifications you might need. Do you have special dietary requirements? Our trainers will help you each step of the way.
At 44 fitness we focus on quality of clients... not quantity.
our facility:


We do the majority of our work in a 1200sq ft facility filled with monkey-bars, weight and cardio equipment as well some amazing rubber flooring that is perfect for absorbing impact of falling weights or a nice high jump.
Don't be surprised if classes are taken outside or even to the nearby park on warmer days!
We are located about a minute from the corner of highway 100 and Forrest Home in Franklin:
ph or text - 414.213.4538
10610 w. Venture Dr.
Franklin WI 53132
testimonials:
Click here to check out all of our 5 star reviews on facebook!
Melissa K's Brazilian Jiu-Jitsu Testimonial
Kevin A's Brazilian Jiu-Jitsu Testimonial

staff:
Please visit the instructors page to meet all of the 44 fitness staff!